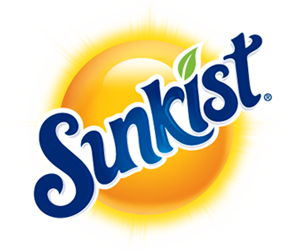 Home Page
THERE'S MORE SUNKIST® SODA TO LOVE
ORANGE, GRAPE, AND STRAWBERRY
CHECK OUT OUR NEW LOOK!
It's hard to pick a fave flavor of Sunkist Soda deliciousness.
Don't worry, you don't have to!
Sunkist Orange
Sunkist Diet Orange
Cherry Limeade
Grape
Fruit Punch
Peach
Pineapple
Lemonade
Diet Lemonade
Strawberry
CHECK BACK SOON FOR PROMOTIONS FROM SUNKIST® SODA!
Our History
The history of Sunkist dates back to way before it was an orange soda. It all started more than a hundred years ago, when citrus fruit growers in California and Arizona instituted the Sunkist trademark as a mark of freshness and premium flavor. As time went on, this mark began appearing on all sorts of great products, from vitamins to fruit snacks, and let everyone know that the thing they were holding was bursting with quality.
In 1978, General Cinema Corporation, a large theater operator and soft drink bottler, created the orange soda we enjoy today and licensed the use of the Sunkist trademark for their delicious orange soft drink. In 1979, Sunkist Soda was launched nationally and quickly became the #1 orange soda on the market.
In 1986, Cadbury Schweppes acquired the Sunkist Orange Soda license and carried on the tradition of awesomeness into the new millennium. They expanded the Sunkist brand to include Diet Orange, Sparkling Lemonade, Diet Sparkling Lemonade, Strawberry, Grape, Pineapple, Peach and Fruit Punch. In May 2008, Cadbury Schweppes split up their operations to create a separate American beverage unit, which was renamed the Dr Pepper Snapple Group Inc.
Today, the Dr Pepper Snapple Group is based out of Plano, Texas and operates 24 bottling and manufacturing facilities and more than 200 distribution centers across the United States, Canada, Mexico and the Caribbean.
For more information, please visit www.drpeppersnapplegroup.com.
Updated as of: January 2014
This privacy policy ("Privacy Policy") applies solely to information collected through those Company web sites, web pages, interactive features, applications, widgets, blogs, text numbers, social networking sites and other Company online or wireless offerings, and their respective contents, that post a link to this Privacy Policy, including those listed above, whether accessed via computer, mobile device or other technology ("Sites"). The Sites are offered by Dr Pepper/Seven Up, Inc., Mott's LLP, Snapple Beverage Corp., Canada Dry Mott's, Inc. and applicable Dr Pepper Snapple Group parent, subsidiary and affiliated companies, Sites developers and other promotional partners (collectively, "the Company", or "we", "us", "our"). Some of our other sites and/or programs may have their own, possibly different, policies that are posted on their own sites. We encourage you to review those policies when using those sites.
This Privacy Policy explains what information may be collected through the Sites, how such information may be used and/or shared with others, how we safeguard it and how you may access and control its use in connection with our marketing communications and activities. Please read this Privacy Policy carefully, because by using the Sites you are acknowledging that you understand and agree to the terms of this Privacy Policy. In addition, please review our Terms of Use, which governs your use of the Sites and any content you submit to the Sites.
QUICK GUIDE TO CONTENTS
1. INFORMATION WE COLLECT ON OUR SITES
° Information You Provide To Us
° Information We Collect Automatically
2. HOW WE USE INFORMATION COLLECTED THROUGH OUR SITES
3. SHARING OF INFORMATION
° Third Parties Providing Services On Our Behalf and Affiliates
° Your Agreement To Have Your Personal Information Shared
° Business Transfers
° Legal Disclosures
4. INFORMATION WE RECEIVE FROM THIRD PARTIES
5. YOUR CHOICE AND ACCESS
6. ADVERTISING/BEHAVIORAL TARGETING; HOW TO OPT-OUT
7. CHILDREN
8. SECURITY OF YOUR INFORMATION
9. OTHER SITES
10. CONSENT TO PROCESSING AND TRANSFER OF INFORMATION
11. CHANGES
12. CONTACT US
1. INFORMATION WE COLLECT ON OUR SITES
Information You Provide To Us
The Sites may ask you to provide information that could reasonably be used to contact you or to identify you personally (such as your name, e-mail address, telephone number, mobile phone number, or home address ("Personal Information")). For example, we may collect Personal Information when you register on the Sites, request information, submit comments or participate in some promotion, survey or other feature of the Sites, or otherwise communicate or interact with us. The Sites may also ask you to provide other information about yourself, such as demographic information (gender, zip code, age, etc.) or certain information about your preferences and interests. If you do not want your personal information collected, please do not submit it.
Information We Collect Automatically
Whenever you visit or interact with the Sites, we, as well as any third-party advertisers and/or service providers, may use a variety of technologies that automatically or passively collect information about how the Sites are accessed and used ("Usage Information"). Usage Information may include, in part, browser type, operating system, the page served, the time, and the preceding page views. This statistical data provides us with information about the use of this Site, such as how many visitors visit a specific page on this Site, how long they stay on that page, and which hyperlinks, if any, they "click" on. This information helps us keep our website fresh and interesting to our visitors and tailor content to a visitor's interests. Usage Information is generally non-identifying. We also automatically collect your IP address or other unique identifier ("Device Identifier") for the computer, mobile device, technology or other device (collectively, "Device") you use to access the Sites. A Device Identifier is a number that is automatically assigned to your Device when you access a web site or its servers, and our computers identify your Device by its Device Identifier.
The technologies used on the Sites to collect Usage Information, including Device Identifiers, include:
Cookies. Cookies are data files placed on a Device when it is used to visit the Sites. We, or our third-party advertising service providers, may place cookies or similar files on your Device for security purposes, to facilitate site navigation and to personalize your experience while visiting the Sites. Cookies allow us to collect technical and navigational information, such as browser type, time spent on our site and pages visited. Cookies allow us to select which of our advertisements or offers are most likely to appeal to you and display them while you are on the Site. You always have the option of disabling cookies using your browser preferences. However, please be aware that some features of this Site may not function properly or may be slower if you disable cookies.
Web Beacons. Small graphic images or other web programming code called web beacons, may be included in the Sites and e-mail messages. Web beacons or similar technologies may be used for a number of purposes, including, without limitation, to count visitors to the Sites, to monitor how users navigate the Sites, to count how many e-mails that were sent were actually opened or to determine whether content sent was actually viewed.
2. HOW WE USE THE INFORMATION COLLECTED THROUGH THE SITES
Any information you submit on the Sites will be used for a variety of business purposes, including for example, to: respond to your questions and requests; provide you with access to certain areas and features of the Sites; verify your identity; administer your participation in our promotions; communicate with you about your activities on the Sites; tailor content, advertisements, and offers we serve you; improve the Sites and for internal business purposes; contact you with regard to your use of the Sites, your account, and, in our discretion, changes to our policies; and for purposes disclosed at the time you provide your Personal Information or otherwise with your consent.
3. SHARING OF INFORMATION
Except as provided in this Privacy Policy, we will not provide any of your Personal Information to any third parties without your specific consent. We may share non-Personal Information, such as aggregate user statistics, demographic information, and Usage Information with third parties. We may also share your information as disclosed at the time you provide your information, as set forth in this Privacy Policy and in the following circumstances:
Third Parties Providing Services On Our Behalf and Affiliates. In order to carry out your requests, to make various features, services and materials available to you through this Site, and to respond to your inquiries, we may share your Personal Information with third parties that perform functions on our behalf (or on behalf of our partners), such as companies or individuals that: host or operate our Sites; analyze data; provide customer service; advertisers; sponsors or other third parties that participate in or administer our promotions or provide marketing or promotional assistance (such as in connection with winner selection, prize fulfillment, and as required by law, such as on a winners list). Your personally identifiable information may also be used by us or shared with our subsidiaries, affiliates, sponsors, partners, advertisers or other affiliated parties to provide you with product information and promotional and other offers.
Your Agreement To Have Your Personal Information Shared. While on our Sites, you may have the opportunity to opt-in to receive information and/or marketing offers from someone else or to otherwise consent to the sharing of your information with a third party. If you agree to have your Personal Information shared, your Personal Information will be disclosed to the third party and the Personal Information you disclose will be subject to the privacy policy and business practices of that third party.
Business Transfers. We may share your Personal Information with other entities affiliated with us for internal reasons, primarily for business and operational purposes. As we continue to develop our business, we may sell or purchase assets. If another entity acquires us or all or substantially all of our assets, or assets related to this Site, Personal Information, Usage Information, and any other information that we have collected about the users of one or more of the Sites may be disclosed to such entity as part of the due diligence process and will be transferred to such entity as one of the transferred assets. Also, if any bankruptcy or reorganization proceeding is brought by or against us, all such information may be considered an asset of ours and as such may be sold or transferred to third parties.
Legal Disclosure. We may transfer and disclose information, including your Personal Information, Usage Information and Device Identifier, (including IP address), to third parties to comply with a legal obligation; when we believe in good faith that the law requires it; at the request of governmental authorities conducting an investigation; to verify or enforce our Terms of Use or other applicable policies; to respond to an emergency; or otherwise to protect the rights, property, safety, or security of third parties, visitors to the Sites or the public.
4. INFORMATION WE RECEIVE FROM THIRD PARTIES
We may receive information about you from third parties. For example, if you are on another web site and you opt-in to receive information from us, that web site will forward to us your e-mail address and other information so that we may contact you. You may also choose to participate in a third party application or feature (such as one of our Facebook or Twitter applications or a similar application or feature on a third party web site) through which you allow us to collect (or the third party to share) information about you, including Personal Information. In addition, we may receive information about you if other users of a third party web site give us access to their profiles and you are one of their "connections" or information about you is otherwise accessible through your "connections'" web page, profile page, or similar page on a social networking or other third party web site or interactive service.
We may also supplement the information we collect about you through the Sites with outside records from third parties in order to enhance our ability to serve you, to tailor our content to you and to offer you opportunities to purchase products or services that we believe may be of interest to you. We may combine the information we receive from these third parties with information we collect through the Sites. In those cases, we will apply this Privacy Policy to any Personal Information received, unless we have disclosed otherwise.
5. YOUR CHOICE AND ACCESS
You may always direct us not to share your Personal Information with third parties, not to use your Personal Information to provide you with information, offers, newsletters, e-mails and other communications by: (i) updating your registration profile preferences on the Site, (ii) sending us an e-mail at our Contact address provided below; (iii) contacting us by mail at our Contact address provided below; or (iv) following the removal instructions in the communication that you receive. Please specify the applicable Sites or brands for which you do not wish to receive communications. Your opt-out request will be processed within 30 days of the date on which we receive it.
If you wish to verify, correct, or update any of your personal information collected through the Sites, you may edit your registration profile preferences on the Site, where available, or contact us at the below Contact address or e-mail. In accordance with our routine record keeping, we may delete certain records that contain Personal Information you have submitted through the Sites. We are under no obligation to store such Personal Information indefinitely and disclaim any liability arising out of, or related to, the destruction of such Personal Information. In addition, you should be aware that it is not always possible to completely remove or delete all of your information from our databases without some residual data because of backups and other reasons.
6. ADVERTISING/BEHAVIORAL TARGETTING; HOW TO OPT-OUT
We may license technology to serve advertisements on the Sites and within the Sites' content as that content is served across the Internet. In addition, we may use third party network advertisers to serve advertisements and third party analytics vendors to evaluate and provide us with information about the use of the Sites and viewing of our content. Except as provided in this Privacy Policy, we do not share Personal Information with these third parties, but ad network providers, the advertisers, the sponsors, and/or analytics service providers may set and access their own cookies, web beacons and similar technologies on your Device and they may otherwise collect or have access to information about you, including Usage Information.
With regard to advertisements, we and our network advertisers may target advertisements for products and services in which you might be interested based on your visits to both the Sites and other web sites. Cookies and web beacons, including those set by third party network advertisers, may be used to, among other things, target advertisements, prevent you from seeing the same advertisements too many times, or to conduct research regarding the usefulness of certain advertisements to you. We may share Usage Information about visitors to the Sites with third party advertising companies for the same purposes. We may use a variety of companies to serve advertisements. You may wish to visit: http://www.networkadvertising.org/managing/opt_out.asp, which provides information regarding the "opt-out" procedures used by some of the third party ad servers we may use.
7. CHILDREN
This Site is not directed to children under 13. We do not knowingly collect personally identifiable information from anyone under 13 years of age. If we determine upon collection that a user is under this age, we will not use or maintain his/her Personal Information without the parent/guardian's consent. If we become aware that we have unknowingly collected personally identifiable information from a child under the age of 13, we will make reasonable efforts to delete such information from our records. However, in certain circumstances, we may maintain and use such information (in accordance with the rest of this Privacy Policy and applicable law) in order to notify and obtain consent from the parent/guardian and for certain safety, security, liability and other purposes permitted under applicable law. A parent/ guardian can review, remove, change or refuse further collection or use of their child's Personal Information by contacting us as provided above (include child's name, address and e-mail address).
8. SECURITY OF YOUR INFORMATION
We use certain reasonable security measures to help protect your Personal Information. However, no electronic data transmission or storage of information can be guaranteed to be 100% secure. Please note that we cannot ensure or warrant the security of any information you transmit to us, and you use the Sites and provide us with your information at your own risk.
9. OTHER SITES
The Sites may contain links to other sites that we do not own or operate. This includes links from advertisers, sponsors and partners that may use our logo(s) as part of a co-branding arrangement. We do not control, recommend or endorse and are not responsible for these sites or their content, products, services or privacy policies or practices. These other sites may send their own cookies to your Device, they may independently collect data or solicit Personal Information and may or may not have their own published privacy policies. You should also independently assess the authenticity of any site which appears or claims that it is one of our sites (including those linked to through an email or social networking page).
10. CONSENT TO PROCESSING AND TRANSFER OF INFORMATION
The Sites are operated in the United States, and/or, in the case of certain Sites, Canada. Given that we are an international business, our use of your information necessarily involves the transmission of data on an international basis. If you are located in the European Union, Canada or elsewhere outside of the United States, please be aware that information we collect will be transferred to and processed in the United States, Canada and/or other jurisdictions in which our service providers and affiliates may be located. By using the Sites, or providing us with any information, you consent to the collection, processing, maintenance and transfer of such information in and to the United States, Canada and other applicable territories in which the privacy laws may not be as comprehensive as those in the country where you reside and/or are a citizen.
11. CHANGES
Please note, we may change information on the Sites and/or this Privacy Policy, at any time without prior notice to you. Changes will be effective immediately upon the posting of the revised Privacy Policy on the Sites.
12. CONTACT US
If you have any questions or concerns regarding this Privacy Policy, please contact us at:
Attn: Dr Pepper Snapple Group Consumer Relations
P.O. Box 869077
Plano, TX 75086-9077
Re: Privacy Policy (please refer to the applicable site and date of this policy)
Telephone: 1-800-696-5891
E-mail: send us an email
Updated as of: January 2014
These Terms of Use ("Terms") apply to your use of those Company web sites, web pages, interactive features, applications, widgets, blogs, text numbers, social networking sites and other Company online or wireless offerings, and their respective contents, that post a link to these Terms, including those listed above, whether accessed via computer, mobile device or other technology ("Site" and "Sites"). The Sites are offered by Dr Pepper/Seven Up, Inc., Mott's LLP, Snapple Beverage Corp., Canada Dry Mott's, Inc. and applicable Dr Pepper Snapple Group parent, subsidiary and affiliated companies, Site developers and other promotional partners (collectively, "the Company," or "we", "us", "our"). Some of our other sites and/or programs may have their own, possibly different, policies that are posted on their own sites. We encourage you to review those policies when using those sites.
CONDITIONAL USE OF THIS SITE
Your access to and use of the Sites (or any part thereof) is subject to these Terms, and all applicable laws. Certain features of the Site may have additional terms, such as promotion official rules, site content and behavior guidelines, and other terms and conditions. These Terms govern your rights and responsibilities in connection with the particular Site you are using. By accessing and using the Sites and such other features, you signify your acceptance and agreement to be bound by these Terms and the Company Privacy Policy (the "Privacy Policy"), which is hereby incorporated by this reference into these Terms, and such other terms as may be applicable. These Terms are a binding legal agreement between you and the Company: please read them carefully before you use the Site. Do not use the Site if you do not agree with any of the terms contained herein.
RIGHTS; RESPONSIBILITIES; AND GENERAL RESTRICTIONS
° You may use the Sites for your own personal, non-commercial informational or entertainment purposes only.
° You may not copy, reproduce, reuse, retransmit, adapt, publish, frame, upload, modify, create derivative works from or based upon, transmit, decompile, reverse engineer, incorporate into any hardware or software application, broadcast, distribute or otherwise use or exploit any Site Content (as defined below) in any way, including for any public or commercial purpose whatsoever, without our express authorization.
° You may not use any third parties' likenesses, names, and/or properties without their express permission.
° You may not send or post to the Site or link, embed or otherwise display via the Site any material (including, without limitation, any of your own user submissions) that is: unlawful, harmful (including any virus), threatening, libelous, defamatory, obscene, vulgar, scandalous, inflammatory, pornographic, indecent or profane, hateful, racially, culturally or ethnically offensive, or that encourages criminal conduct, or that gives rise, or potentially gives rise, to civil or criminal liability, or that could constitute or encourage a violation of any applicable laws, rules, regulations or government guidelines ("Applicable Laws"), or that infringes or violates other parties' intellectual property, publicity, or privacy rights or links to infringing or unauthorized content.
° You may not do anything on the Site that would prevent other users' access to or use of the Site or any part thereof.
° We may review, edit or delete materials you or others send to the Sites for any reason in our sole discretion, but are not obligated to do so.
° You are responsible for maintaining the confidentiality of any username or passwords associated with access to the Site or your account (including in those instances in which the Site uses the account creation mechanism and management of a third party's social network, website or device) and to monitor and assume responsibility for all activities that occur under your username and/or password.
° We may cancel any registration(s) or account(s) on the Sites at any time, without notice or liability, for any reason, including if technical problems, irregularities or misuse occurs. OWNERSHIP OF MATERIAL YOU SEND. Subject to the application of the Privacy Policy to personal data, any material you send to the Sites will be deemed non-confidential and non-proprietary. This includes any data, questions, comments, suggestions, ideas or other information, material or property. We (or our designees) will be entitled to use any or all of it for any purpose, WITHOUT COMPENSATION TO YOU, including for reproduction, disclosure, transmission, publication, broadcast and posting. You must only send material to the Site if you are the original author of the material or otherwise have the necessary rights to use that material.
DISCLAIMER
We try to make the Site and its contents reliable, but inaccuracies may occur. Therefore, regardless of anything else on the Site or in these Terms:
° USE OF THE SITE IS AT YOUR OWN RISK;
° THE SITE IS PROVIDED TO YOU "AS IS"; "WITH ALL FAULTS" AND "AS AVAILABLE"; AND
° TO THE FULLEST EXTENT PERMITTED BY APPLICABLE LAW, WE AND OUR RELATED PARTIES DISCLAIM ALL WARRANTIES REGARDING THE SITE, AND SHALL NOT BE RESPONSIBLE OR LIABLE FOR ANY DAMAGES ARISING OUT OF:
° STATEMENTS, ERRORS OR OMISSIONS IN THE SITE;
° CONTENT INFRINGING ANY THIRD PARTY'S RIGHTS;
° VIRUSES THAT MAY BE TRANSMITTED TO YOUR COMPUTER, PHONE, OR OTHER ELECTRONIC DEVICE;
° LINKING TO ANY OTHER SITE OR ITS NATURE OR CONTENTS;
° ANY UNAUTHORIZED ACCESS TO OR USE OF THE COMPANY'S SECURE SERVERS AND/ OR ANY AND ALL PERSONAL INFORMATION STORED THEREIN;
° PERSONAL INJURY OR PROPERTY DAMAGE; OR
° ANY OTHER MATTER REGARDING THE SITE AND YOUR USE OF IT.
INDEMNIFICATION
BY USING THE SITE, YOU AGREE TO INDEMNIFY, DEFEND AND HOLD HARMLESS THE COMPANY AND ITS RELATED PARTIES, AND ITS AND THEIR RESPECTIVE OFFICERS, EMPLOYEES, DIRECTORS, SHAREHOLDERS, AGENTS, LICENSORS, SUCCESSORS AND ASSIGNS, FROM ALL DAMAGES, COSTS AND EXPENSES, INCLUDING REASONABLE LAWYER'S FEES AND COSTS, ARISING OUT OF ANY OF THE FOLLOWING:
° ANY CLAIMS FOR INFRINGEMENT OF INTELLECTUAL PROPERTY RIGHTS, LIBEL, DEFAMATION RELATING TO ANY MATERIALS YOU SEND TO THE SITE;
° ANY ACTIVITY RELATING TO YOUR INTERNET ACCOUNT, INCLUDING NEGLIGENT OR WRONGFUL CONDUCT BY YOU OR ANYONE USING THE SITE THROUGH YOUR INTERNET, CELL PHONE, OR SOCIAL NETWORKING ACCOUNT;
° THE VIOLATION OF ANY APPLICABLE LAWS AND/ OR THESE TERMS BY YOU AND/ OR ANYONE USING YOUR ACCOUNT TO ACCESS AND/ OR OTHERWISE USE THE SITE (IN WHOLE OR IN PART);
° YOUR VIOLATION OF ANY PERSON'S PRIVACY, PUBLICITY OR OTHER RIGHT;
° ANY OTHER MATTER REGARDING THIS SITE AND YOUR USE OF IT.
You agree to use best efforts to cooperate with us in the defense of any such matter. We reserve the right, at your expense, to assume the exclusive defense and control of any matter subject to indemnification by you.
OTHER SITES
This Site may contain links to other web sites and/or other social networking sites that we do not own or operate. We do not control, recommend or endorse and are not responsible for these sites or their content, products, services or privacy policies or practices. Downloading material from certain sites may risk infringing intellectual property rights or introducing viruses into your system. You should note when you leave the Site and read the privacy policies and terms of these other sites. You should also independently assess the authenticity of any website or social networking site which appears or claims that it is one of our sites (including those linked to through an email).
INTELLECTUAL PROPERTY
We (or our associated or affiliated companies or third parties who have licensed its brands to Company or contributed to the Site) ("Content Owner") own or license from third parties all Site Content. All Site Content and all copyrights, patents, trademarks, service marks, trade names and all other intellectual property rights therein remains the sole property of the applicable Content Owner and is protected under all relevant international copyright, trademark and other intellectual property laws. Nothing on the Site should be construed as granting any license or rights to use or distribute any Site Content, without our express written agreement or of the other applicable Content Owner.
TERMINATION
We may, in our sole discretion for any reason, without liability or prior notice at any time:
° limit, terminate or suspend your or other users' access to or use of the Site,
° discard, remove, and/or disable or deactivate any or all of your submissions or materials and data that you (and/or anyone else) sent to the Site, and/or
° discontinue the Site or any parts thereof
You may discontinue your access to or use of the Site at any time.
FORWARD-LOOKING STATEMENTS
The Sites may contain forward-looking statements within the meaning of Section 27A of the United States Securities Act of 1933, as amended, and Section 21E of the United States Securities Exchange Act of 1934, as amended, including, in particular, statements about future events, plans, strategies, expectations and prospects. Forward-looking statements include all statements that are not historical facts and can be identified by the use of forward-looking terminology such as the words "may," "will," "expect," "anticipate," "believe," "estimate," "plan," "intend" or the negative of these terms or similar expressions. These forward-looking statements have been based on our then current views about future events and financial performance. Our actual financial performance could materially differ due to the inherent uncertainty of estimates, forecasts and projections. Our financial performance may be better or worse than anticipated. Given these uncertainties, you should not put undue reliance on any forward-looking statements. All forward-looking statements are qualified in their entirety by reference to "Risk Factors" discussed in Part I, Item 1A of our Annual Report on Form 10-K for the current fiscal year and our other United States Securities and Exchange Commission filings. Forward-looking statements represent our estimates and assumptions as of the date they were made. We do not undertake any duty to update the forward-looking statements, and associated estimates and assumptions, after the date made, except to the extent required by applicable securities laws.
JURISDICTION
We control and operate the Site from the State of Texas, USA, and/or in the case of certain sites, the Province of Ontario, Canada (the "Jurisdiction") (regardless of where hosting servers are located). All matters relating to the Site are governed by the laws of the above Jurisdiction, without reference to conflict or choice of law principles. You agree that jurisdiction and venue for any legal proceeding relating to the Site shall exclusively be in appropriate courts located in the above Jurisdiction and must be brought within 1 yr after the claim or cause of action arises. We do not imply that the Site or materials on it are appropriate for use outside of the USA or Canada, as applicable. Information on the Sites concerning any products or services is applicable only in the Jurisdiction, and these products or services may not be available in all locations. If you are located outside of the USA or Canada, as applicable, you are solely responsible for compliance with any applicable local laws in your jurisdiction.
SEVERABILITY; WAIVER
If for any reason, any provision of these Terms is found unlawful, void or unenforceable, it shall be deemed severed from these Terms and the remaining provisions will continue in full force and effect. Our failure to exercise or enforce any right or provision of these Terms shall not constitute a waiver of such right or provision.
DEFINITIONS/INTERPRETATION
As used herein:
"Damages" means any and all direct, special, indirect, consequential loss or, exemplary or punitive damages or other damages of any kind, including damages for loss of revenues, profits, goodwill, use, data or other intangible losses (whether in contract, including fundamental breach, tort, including negligence, statutory or otherwise). "including" means including, but not limited to.
"materials sent to the Site" (and "materials you send to the Site" and other like terms) means anything emailed, uploaded, posted or otherwise transmitted or sent to the Site (whether information, text, material, data or code or other) by you or another user. "Related Parties" means all of our parent, subsidiary and affiliated companies, Site Developers and other promotional partners.
"Site Contents" means any and all text, images, audio, video, designs, names, logos, trademarks, data, code or other information, material or content on the Sites. "Site Developer" means any party involved in creating, producing, delivering or maintaining the Site.
"use of the Site(s)" (and "using" and other like terms) means any and all use of the Site of any kind whatsoever, including access to, browsing of, reviewing, posting of, transmitting, reviewing, downloading, and other using the Site or any material on the Site.
"Warranties" means any warranties or representations, express or implied (including, without limitation, any implied warranties of merchantability or fitness for a particular purpose, title, non-infringement or freedom from computer virus).
CHANGES
We may change or add to the information on the Sites and/or these Terms, at any time without prior notice. Changes will be effective when posted. You should regularly review these Terms for any updated version. Your use of the Site after changes are made will be considered your acceptance and agreement to be bound by such changes. By providing continued access to the Site, we are providing you consideration for agreement to such changes. If you object to any changes, your sole recourse is to stop using the Site.
CONTACT US.
If you have any questions or concerns regarding this Site, please contact us at:
Attn: Dr Pepper Snapple Group Consumer Relations
P.O. Box 869077 Plano, TX 75086-9077
Re: Terms of Use (please refer to the applicable site and date of these Terms of Use)
Telephone: 1-800-696-5891
E-mail: send us an email
Many Internet users with disabilities find web sites difficult or even impossible to use simply because of the way they are designed.
We are working hard to provide access to information that is available to all users, and this goes for the website, too.
We are aware of the types of adaptive technology used by people with disabilities and are redesigning pages across our portfolio of websites to make our sites compatible with as many of these systems as possible. Changes include keeping text clear, formatting layouts and tables, and making sure links adequately describe where they go ('click here' does not mean much in isolation).
We are rebuilding our websites to meet the Web Accessibility Initiative (WAI) Content Accessibility Guidelines set by the World Wide Web Consortium (W3C) and we aim, wherever possible, to conform to 'Double-A' standards. You can find out more about the initiative on W3C's website.
If you come across a part of our site that is difficult to use please tell us about it. We intend to keep improving our accessibility so to help us do it, send us your comments.
This website has been designed to be keyboard accessible. To access the primary navigation utilize the tab button. Access to secondary and tertiary navigation can be further accessed through a combination of tab and arrow key actions
Home

Products
Sunkist Peach
Sunkist Grape
Sunkist Diet Lemonade
Sunkist Lemonade
Sunkist Orange
Sunkist Diet Orange
Sunkist Strawberry
Sunkist Pineapple
Sunkist Cherry Limeade
Sunkist Fruit Punch
Promotions
History
Contact Us
Privacy Policy
Terms of Use
Flash Site
Accessibility
Legal Footer.
SUNKIST is a registered trademark of Sunkist Growers, Inc., USA used under license by Dr Pepper/Seven Up, Inc. ©2014 Sunkist Growers, Inc. and Dr Pepper/Seven Up, Inc.